If you're like me, this year you planted a "COVID-19 Victory Garden". It gave me something to do and look forward to while in quarantine. And with the growing panic of possible food shortages, I felt a little more reassured knowing I had a potential food source growing in the back yard. If you haven't planted yet, don't fret you still have time. Here are a couple tips and tricks
1. Know your plant – Whether you buy a mature plant or seeds, make sure to keep the plant details on the tag or the seed package. This will let you know where to plant, how much to water, how much to space plants apart… If you follow the suggestions on the plant's tag, you are well on your way to a beautiful garden.
2. Mulch your garden – What? Yes Mulch!!! Putting mulch out over your dirt will help cut down on weeds, hold moisture in the dirt, control temperature fluctuation, increase biodiversity, and reduce back-splash from watering. AND mulch slowly brakes down, improving the soil composition.
3. Watering consistently – You want to water low and slow and for a longer period of time (I count to 30 per plant) This allows the water to seep deep into the ground encouraging deep, strong roots. Also, watering at the base of the plant helps promote healthy leaves and flowers. Don't forget to take into account the weather…because in Tennessee it could go either way. So wait a couple days between watering
4. Pick your fruits and Veggies often – This will promote more fruits and veggies to grow. Not allowing any to rot will help keep bugs to a minimum
5. Look at your plants every day – If you haven't planted, plant them in an area where you will see them every day! This will allow you to notice when your plants need to be watered and veggies need to be harvested.
For any additional help I like to use this nifty app that has plenty of advice for your plant needs: https://plantix.net/en/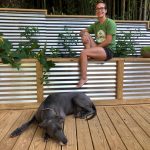 Amanda Garrison
Buyer's Agent
The Bekah Cochran Team