We recently had the lovely Monica Glover, owner of Arrange Home Staging & Redesign, give us her tips and tricks on staging your home to sell. Check it out below!
Staging Your House to Sell
So you are selling your house and you've heard your need to stage it. Wondering where to begin? Don't feel like you are alone on this one. A good real estate agent will lead you in the right direction. In fact, one of my favorite real estate agents, Amanda Garrison with The Bekah Cochran Team, recently asked me for some DIY staging tips for sellers.
5 staging tips to showcase your house: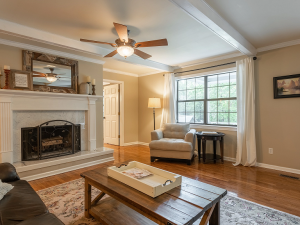 Lighten & brighten:

buyers want bright homes and you, the seller, can provide this in the form of light neutral wall paint, white or cream throw pillows, bedding, and accessories. Make sure the widows let the light in, so open up those blinds or drapes and trim any outside shrubs that are directly blocking light.
2. Clear the corners: open up the floor space in your home by removing anything that has gathered in the corners of a room (think toys, access furniture, laundry, etc). Buyers are looking to buy real estate and you need to show them your square footage, not your things.
This charming kitchen is available at 604 Dunsinane Road, Signal Mountain, TN 37377
3. Tackle the kitchen clutter: show off your counter space by clearing away all items. A few well placed accessories can highlight the space, but keep it simple. Additionally, your kitchen will look larger by taking everything off the front of your refrigerator. If you have an island, draw the buyer's eye to it by placing a simple bowl of fruit on it. Keep the fruit the same color for the best pop in photography.
4. Show off your bathrooms: clear the counters of all of your toiletries and clear the floors of all of your bathmats. Instantly your bathroom will look larger and cleaner.
5. Curb appeal: Make sure the lawn is trimmed and watered, beds have fresh mulch, and your front door is freshly painted or stained. Updated lighting and house numbers instantly add value, while fresh flowers & plants add color. Finally, don't forget to add a new doormat. No buyer ever wants to walk over an old doormat into their new house.
This beautiful porch belongs to 4766 Signal Forest Drive, Signal Mountain, TN 37377